Discovery Learning launches its training offer for this autumn
Innovative learning techniques, such as game-based learning or worked-based learning, will be commonly used throughout these sessions. Its main purpose is to achieve high levels of exchange and interaction between participants and trainers.
The European project Discovery Learning, in which FECYT participates with the aim of applying an innovative method of learning transferable skills for early stage researchers, launches its training offer for this autumn. The training is composed of different sessions focusing on transferable skills training for ESR's and PhD students from European institutions.
During these sessions, trainers will have the opportunity to access a practical and interactive format, delivered by professionals specialised in a wide range of science and technology topics. The goal will be to train participants in a range of transferable skills that enhance their career in the academia and beyond.
Topics such as science diplomacy and science consultancy, management of R&I projects and science communication will be some of the addressed topics during these sessions, among many others.
The registration form for each session will be opened around 15 days in advance through an online platform available on the project's website. The first webinar on science diplomacy will be held on next Friday 22th October and has already sold out its capacity for registrations. A new training on R&I project management and leadership is scheduled for 25th October, and the registration form is still available on the project website.
Discovery Learning has received funding from the European Union's 2020 research and innovation found and has a complete duration of 18 months. The project, which started on 1 December 2020, involves four institutions from three different countries: the Slovak Academic Information Agency (SAIA), the University of Oslo in Norway (UniOslo) and FECYT, and is led by the Spanish consulting firm Research Technology Development and Innovation (RTDI). FECYT is in charge of the communication and visibility tasks of the project.
All the information related to Discovery Learning can be followed through its Twitter account @DiscoveryLearn4 and its website https://discoverylearning.eu/.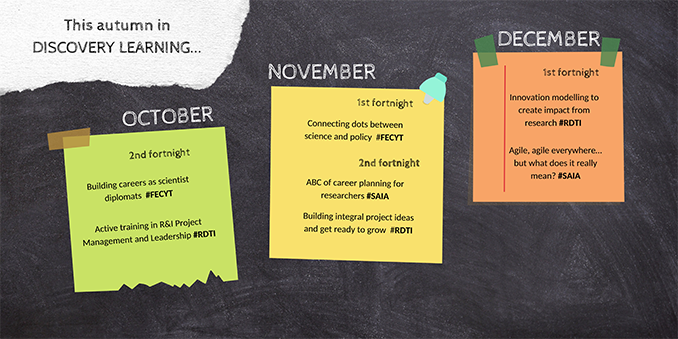 Events
Events